Cardi B Says She 'Ain't Going To Jail' After Being Indicted By Grand Jury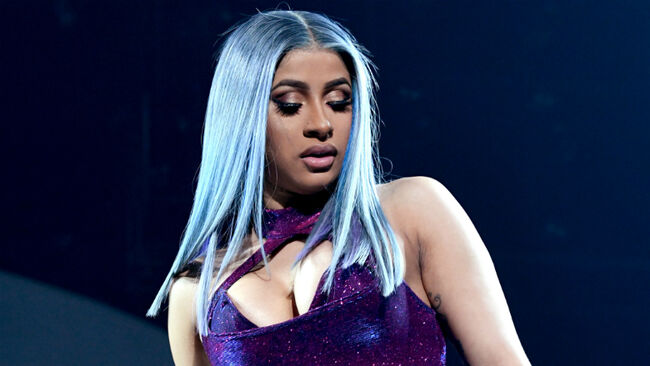 Cardi B may be facing some time behind bars (if found guilty), but, according to her, she's not going to jail.
The "Press" rapper reportedly assured fans of this while at a Los Angeles concert on Saturday (June 22), ahead of the 2019 BET Awards. "I ain't going to jail," she told fans, per Page Six. "F**k you mean? I ain't going to jail, I got a daughter!"
As previously reported, Cardi was indicted on multiple charges, including two felonies, last week, in connection to a fight at a Queens strip club in August. The 26-year-old rapper, whose real name is Belcalis Marlenis Almánzar, was initially charged with two misdemeanors— reckless endangerment, and assault — for allegedly ordering an attack on the two bartenders — sisters Jade and Baddie G — at Angels Strip Club. The fight reportedly went down because Cardi believed one of the bartenders slept with her husband, Offset. 
Despite being initially charged with only two misdemeanors, after "further investigation," the grand jury indicted Cardi on 12 charges, including 2 counts of felony attempted assault with intent to cause serious physical injury, TMZ reports. The other charges include misdemeanor reckless endangerment, assault, criminal solicitation, conspiracy, and harassment.
Since news of the indictment, it's been business as usual for Cardi. She attended all of the BET Awards' weekend festivities, spoke at the ASCAP Rhythm and Soul Music Awards in Beverly Hills on Thursday night (June 20), and performed at the BET Awards on Sunday (June 23).
As fans know, back in April, Cardi denied a deal that would have required her to plead guilty to a misdemeanor and get a conditional discharge. While the deal meant no jail time, Cardi would have had to stay out of trouble for a set period of time. Clearly, not down with that last guideline or the deal itself, Cardi rejected it before they even discussed how long she'd have to stay out of trouble, TMZ reported.
Photo: Getty Images